Claddagh National School, supported by Creative Ireland and in partnership with the local library service, local bookshops and other local schools, will host the second Claddagh Festival of Children's Books from 21st-23rd November.
Expect visiting authors and illustrators, no less than TWO Children's Books Ireland Book Doctors, writing workshops, storytelling, a raucous poetry flash mob on the streets of Galway and the second edition of the city's first-ever poetry slam for kids.
FREE FAMILY AFTERNOON
Our school will be open to the public from 2-6 p.m. on Friday, 23rd November, for a Free Family Afternoon, which will feature workshops with authors and illustrators, storytelling, doodling, bookseller visits, face-painting, fancy dress and more.
All are welcome!
Claddagh Festival of Children's Books 2017
Last year, we proudly hosted our first little festival for little people's books from November 15th-18th. This was our inaugural festival, and we were absolutely delighted that all our hard work and preparation paid off so well - children from all around Galway had a blast!
Visiting authors, illustrators and storytellers held children spellbound, both here in the school and at a number of venues around Galway. The festival also featured a hugely popular visit from the Book Doctor and a poetry slam for kids, amongst a range of other exciting and fun book-based activities and events.
Many of the events were open to the public, and all were be ABSOLUTELY FREE.
Highlights of the 2017 festival
Ireland's First Poetry Flash Mob
"Words Are Ours", recited in Galway City Centre by children from Claddagh NS, the Jes and Scoil Bhríde in Shantalla.
Open Afternoon with CBI Book Doctor, Des Kenny of Kenny's Bookshops, Author/Illustrator Derek Mulveen and much more!
Picturebook author and illustrator Niamh Sharkey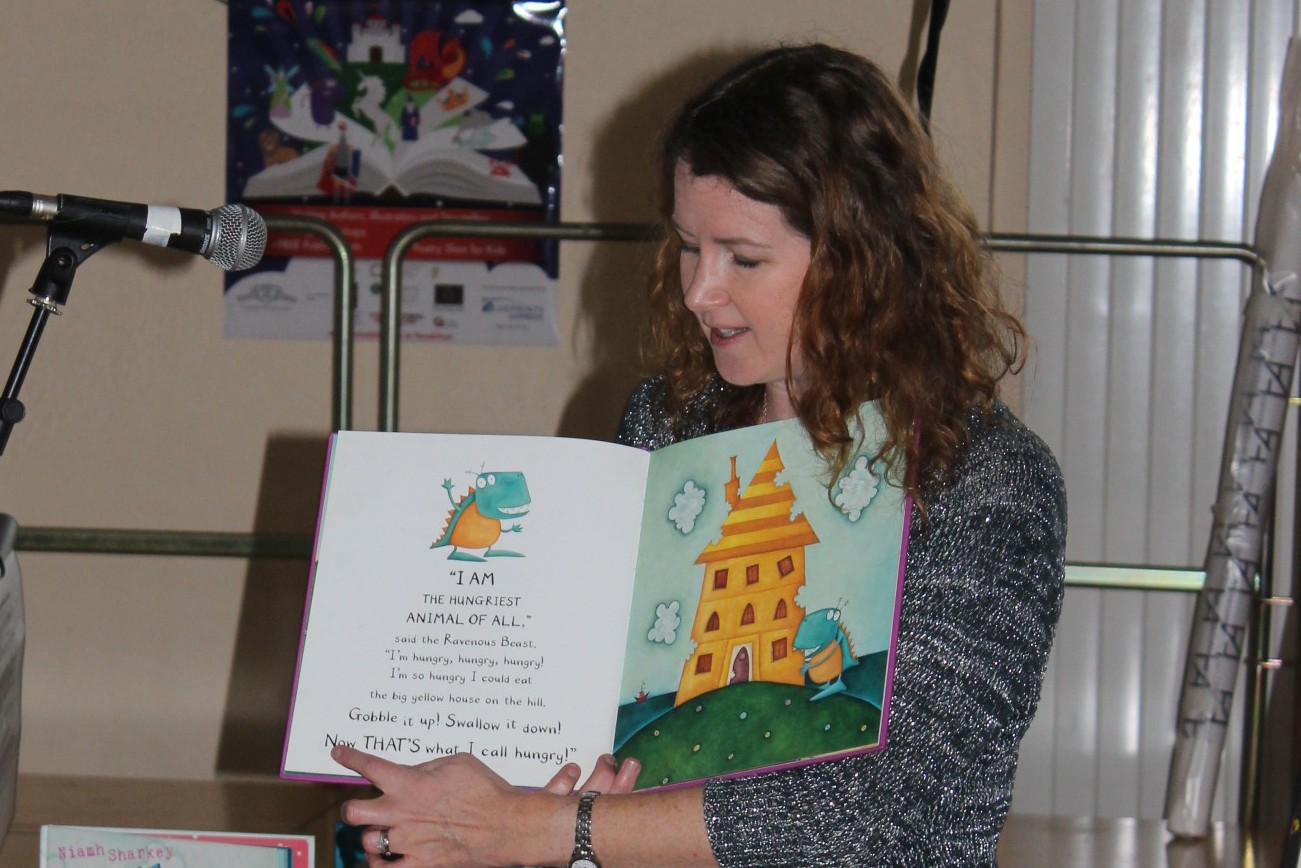 Author/Playwright Emma Heatherington and Musician Jim McKee
Author/Illustrator Derek Mulveen